When Ardmore Village was established in 1984, a chief goal was to provide a variety of options for senior living. We think of senior years as another phase of life that can be just as full of meaning, joy, activity, community, and satisfaction as all the others. When seniors move into one of our four types of residences, they have often had to downsize to join our vital community of seniors. Some tips about downsizing are below. But first, the following are the four different living options at Ardmore Village–Cottages, Apartments, Townhomes, and The Lodge.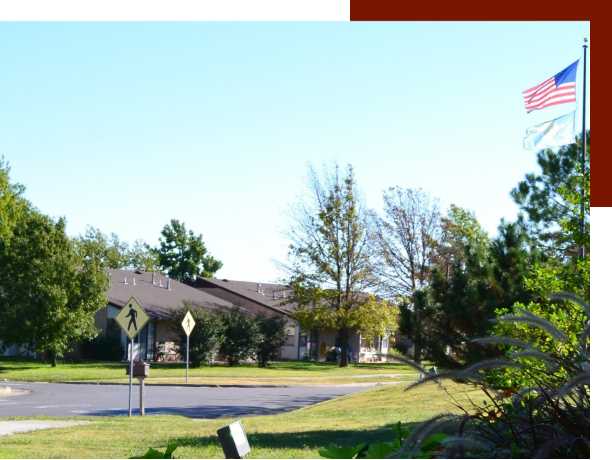 Independent Living Options with a HUD Subsidy
The U.S. Department of Housing and Urban Development (HUD) is an agency that administers Federal aid to subsidize rent payments for low-to-moderate income residents, including seniors. Ardmore Village has 92 high-quality HUD-subsidized one-bedroom cottages and 19 HUD-subsidized one-bedroom apartments. Various amenities are also provided that cater to the HUD-subsidized independent-living residents, including some that promote peace of mind. In addition, an emergency pull cord is in each of the bedrooms and bathrooms and when pulled produces an audible sound outside to alert neighbors of a possible fall. Lawn maintenance is provided, as well.
The Cottages
The Cottages offer high-quality living for low-to-moderate income seniors. Residents of The Cottages have their own private patio, a tub/shower combination, and central heating and air conditioning.
Apartments
The 19 Apartments at Ardmore Village are in a single-story building. Each apartment has a private patio and is mobility-disabled accessible.
More Spacious Independent Living with No Subsidy
The Townhomes
Ardmore Village offers the Townhomes, which are ideal for residents who need a bit more room. All townhomes are single story and have two bedrooms, 1.5 to 2 bathrooms, a two-vehicle carport, and a private fenced-in backyard. Lawn care is provided.
Independence is highly valued among seniors, but when a little extra assistance is needed, it's wonderful to have the help of caring professionals, such as the staff at our assisting-living facility, The Lodge.
The Lodge
Ardmore Village offers affordable luxury and uncompromising care for residents of The Lodge, our assisted-living facility. Residents are served 3 meals per day and get daily help for such tasks as medication administration and getting dressed.
Coping When Downsizing is a Struggle
When residents move to Ardmore Village, it is often their time to do some serious downsizing. This can be a cause for sadness or grief for a variety of understandable reasons. There may be emotional attachments to your previous residence. You may be leaving many good friends in a familiar neighborhood. Simply the process of letting go of enough possessions to fit into your new space can feel devastating. The following are a few tips to cope: